Different strokes for different folks but the same old Mugabe tactics underline elections in Zimbabwe
The ghost of Robert Mugabe – like the ghost of Banquo in Shakespeare's Macbeth – keeps popping – up at election time in Emmerson Mnangagwa's Zimbabwe (Picture: Trevor Grundy)
GUEST WRITER OF THE MONTH
The swearing-in of the new, old president has been and gone after our disputed elections.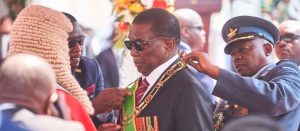 Only three African presidents flew in for the grand jamboree at the stadium. Many more were expected. Invited guests included a man from brotherly Belarus whose name no-one could pronounce over the loudspeakers.
Musician Jay Prayzah performed. He is known as Masoja (soldier) for the military garb worn by his band, he by far outsells his singing rivals and he is a crowd puller wherever he goes.
Local TV would have us believe the 50,000-seat stadium was packed to the gills and it was –  at least where their cameras were pointing.
For the occasion President Mnangagwa, 80, had had a neat trim of his hair with fresh dye to cover the gray spots. He looked a decade younger. A beautician in my hood says men among her customers like to get touched up with make-up to shed a few years.
The excellent cartoonist of  Zimbabwe Daily takes note of ill-gotten ruling party gains floating about on Inauguration Day, and every day, rewarding local loyalties and the African liberation fraternity.
Mnangagwa has been a powerful figure, and certainly not an angelic one,  in the Zimbabwe African National Union-Patriotic Front since independence under Robert Mugabe, the first all-powerful, repressive helmsman whom he forced out of office after 37 years in power.
Mugabe died afterwards aged 95 in hospital in Singapore. He was thinning on top and also favoured hair dye.
After being sworn in by Chief Justice Luke Malaba Mnangagwa promised a future of prosperity, unity, harmony and forgiveness in the years to come.
Thus Mugabe's widow Grace, now 58, a principal player in the political bun fight over succession after her husband's ouster, was looking youthful at the stadium. Joice Mujuru, a former vice president thrown out of ZANU-PF for her own political ambitions, was there too. She was a feisty young fighter in the liberation war said to be a crack shot who wanted to bring down enemy helicopters.
Grace, on the other hand, was a relative novice in public life. A former secretary in Mugabe's office nearly 40 years his junior, she bore him three children, two out of wedlock, and had ambitions of her own. Her waspish tongue attracted a considerable following of younger wannabes.
Needless to say, the opposition was not present. They said the elections were rigged and demanded a fresh poll.
The whole day seemed like a well choreographed affair to show joy that was, at best, elusive. In fact, celebrations were non-existent in the nine days between polling and the swearing in. The silence was deafening. Surely you go out onto the street in jubilation if the outcome is not a foregone conclusion? Not a fait accomplis?
Motorcades of fancy cars going to and from the event had wailing escorts to clear traffic and caused gridlock across town.
Not welcome there: Nevers Mumba, a former Zambian vice president who led an election observer mission of the regional Southern African Development Community (SADC) whose report was highly critical of the entire process. A first for African observers who angered Mnangagwa's people the most this time around. It's okay for Western onlookers to be critical but now brother had turned against brother, respect for traditional African values of solidarity was betrayed. According to Mnangagwas's state radio Mumba  was a known opposition sympathiser and a "convict."  The propagandists dug up his minor conviction as a young man for lying to police after a small domestic dispute at home in Zambia.
The dominant state media also tended to call the election a plebiscite, suggesting all and sundry would have a say.
Not so, according to Nevers Mumba's group. The voters' lists were woefully inadequate. (I was one of the hundreds of thousands turned away when our names couldn't be found on the chaotic voters' roll.)
That's life in a the land of different strokes for different folks.
(Trevor Grundy writes – Angus Shaw is one of Africa's best known and most widely  respected journalists, a former Agence France Presse (AFP) reporter in Paris and bureau chief of Associated Press (AP) in Zimbabwe. He is  the author of  novels about the origins, the hopes, the fears and some of the achievement of a country and people he loves  and lives alongside, a potentially wonderful country in which he has played a prominent media role as a fearless hunter for the truth).